Main content starts here, tab to start navigating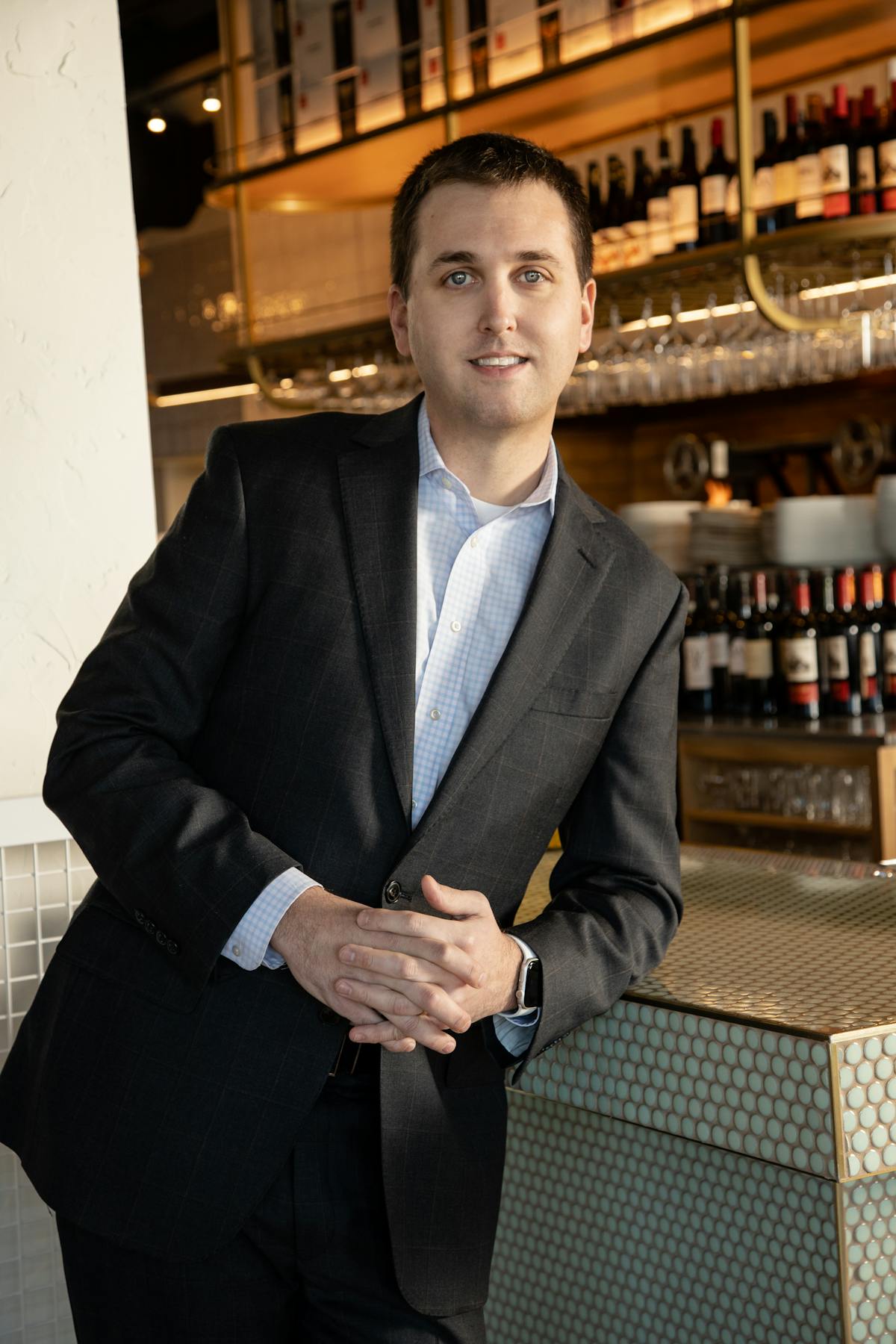 Kevin Roskoskey
General Manager / Partner
Born into the hospitality industry, Kevin Roskoskey attributes his initial admiration for the restaurant realm to his upbringing, where his mother worked as a waitress to support the family. Occasionally joining his mother for her shifts, he would observe the fast-paced operations behind the scenes, and Roskoskey's early infatuation grew into a passion to pursue a future restaurant job of his own.
Growing up in Naperville, IL, and then moving to Batavia, IL, Roskoskey has spent most of his life the Western Chicago suburbs. Before he could drive, Roskoskey humbly worked as a dishwasher at the local Batavia VFW Hall. After a year of contributing to the back of the house operations, Roskoskey carried on in the industry as a server and bartender at multiple local suburban chain restaurants and eventually transitioned to fine dining establishments, like Sullivan's Steakhouse in downtown Naperville.
When the time for college came, Roskoskey first pursued Aerospace Engineering at Iowa State University before transferring to Western Illinois University, graduating with a Bachelor's degree in Finance in 2008. Just two years into his post-graduation job as an insurance analyst, Roskoskey realized that his heart truly belonged in restaurants. He switched gears from insurance to hospitality, starting out in an entry-level management role for 4 Star Restaurant Group in 2012. Achieving quick growth and recognition at 4-Star Restaurant Group, Roskoskey then brought his experience to Ditka's Restaurant Group where he acted as Assistant General Manager and Wine Director for three years. Then in 2019, Roskoskey acquired his first Francesca's Restaurant Group role, General Manager of Joe's Imports, becoming a valuable asset to the FRG family of restaurants—especially during the COVID-19 pandemic where he graciously managed multiple FRG locations all throughout Chicagoland.
Making quite the impression on Francesca's Restaurant Group's Founder Scott Harris and Executive Chef Jaysen Euler, Roskoskey was offered the opportunity to open Vasili's as General Manager. His ultimate inspiration coming from talented chefs and restaurateurs with creative minds and innovative techniques, Roskoskey focuses on putting the guest at the forefront of every decision while crafting unforgettable dining experiences. With that, Roskoskeyeagerly welcomed the opportunity at Vasili's to bring this dining philosophy to his hometown community of Naperville.
Aside from his managerial contribution to the hospitality industry, Roskoskey also immersed himself in the wine world, achieving sommelier certification. His inspiration for learning about wine sparked from a former boss and has flourished as he continues to absorb the rich history of viticulture. Roskoskey's fascination with wine led to him curating a unique wine list for Vasili's, where he methodically selected over one hundred bottles spanning Old World and New.
Roskoskey accredits his attention to the smallest of details, positive motivational approach to management, data driven analytics, and all-around host persona to his success in the industry. He hopes that his guests' experiences at Vasili's will not end with their meal, but instead will be charmingly raved about until their next.
When he's not working, Roskoskey is spending time with his wife, Erica, and their two dogs. He's a golfer, craft beer enthusiast (alongside wine), White Sox fan, and avid movie-goer. On his days off, Roskoskey will probably be found on the golf course.